Dr. Peters of Omaha's OMNE Chiropractic is dedicated and devoted to every patient he encounters. Providing a safe and comfortable environment for improvement of the body, allowing it to heal in the most natural and effective way, is the goal.
We are committed to making your healing process efficient and non-invasive.
We believe in finding solutions to pain rather than masking it with potentially harmful medication, injections, or unwarranted surgeries.
Having worked with a variety of patients who differ in age, ability, strength, and ailment, we are well-versed at creating health plans that cater to each individual's specific needs and goals. We want your body performing at its best, whether that means you get to run that marathon, sit comfortably at your remote workstation, or keep going to your CrossFit class.
Dr. Peters offers his patients a combination of various chiropractic techniques and rehabilitation services. When used simultaneously, this holistic approach generates results, providing a pain-free body and a happy patient.
Your First Visit and Our Approach
One thing is sure; if you're in pain, your body is telling you something. Finding out what's causing your discomfort as soon as possible is the best way to ensure the problem is taken care of and doesn't lead to more significant pain or pain spreading to other areas.
With our streamlined, comprehensive chiropractic care solutions, you get an effective, safe outcome. If you've never been to a chiropractor and are feeling anxious, Dr. Peters will make sure you leave our office feeling confident and knowing that your body's health goals are our priority.
Upon your first visit, you'll likely experience something like this: 
A consultation regarding your medical history, current pain points and lifestyle, and health goals 

A physical, comprehensive evaluation that accurately determines the source of your pain, inclusive of functional movement testing, muscle testing, and strength testing

A discussion about the solution plan we think will benefit you best, safely maximizing your time with us

After agreed upon, we'll begin the program, which often entails chiropractic service, rehabilitation exercises, and more on day one, so come prepared!
For every visit, we recommend wearing comfortable clothing that allows Dr. Peters access to the areas of concern. You can expect to visit with us for about 45 minutes unless previously discussed. 
Your body's safety and capabilities are always respected. We hope to find balance and strength as we get to the root of your pain; although our treatments work aggressively, they will never compromise your body or your peace of mind. We will enlist a plan that is tailored exclusively for you and your needs. 
If you ever feel uncomfortable with your plan or a specific chiropractic technique, we want to know about it. Admittedly, some services may require some hard work on your part or be a bit more challenging, but we won't ask you to do anything you can't handle. We're here to help you get your life back, and we will do so with your personal needs in mind. 
Our multimodal treatment approach aims to match the right patients with the right treatments at the right time. Our toolbox is expanded compared to the traditional chiropractic approach and allows us to better serve our patients.
Access to new patient forms prior to your first visit allows us to maximize time in assessment and treatment on your initial visit. 
Why You Should Visit Our Omaha Chiropractic Office
Dr. Peters believes in the conservative healing of chiropractic care and provides responsible health strategies to each unique patient. Considering physical limits, wellness needs and goals, and general health, you can expect to receive the utmost in holistic solutions to your pain points. 
Managing your discomfort through non-invasive measures means no downtime, no risky prescription medication, and giving your body support that undermines the need for surgery. We will also provide you with take-home exercises and stretches that work in conjunction with our in-office care.
If you're feeling any of the following symptoms at any level of intensity, we'd like to help get you started down the road to recovery: 
Lumbar pain
TMJ problems
Shoulder pain
Elbow pain
Hand or wrist pain
Carpal tunnel
Hip pain
Knee pain
Ankle pain
Plantar fasciitis 
Sprains or strains
Tennis elbow
Golfer's elbow
Overuse or repetitive use injuries
Surgery injuries 
Pinched nerves
Slipped disc
Disc bulges or protrusions
Loss of range of motion, flexibility, or mobility
Tight muscles
Stiff muscles
Dr. Peters will use his experience, insight, and methods to determine the best plan for your chiropractic care, getting back your quality of life as quickly and safely as possible. 
OMNE's Common Chiropractic Services
With so many patients come injuries of all levels and kinds, caused by a variety of reasons. Some of our patients are suffering due to poor posture and bad ergonomics. Others have been injured in an auto accident. Still, others are aiming to achieve higher athletic capabilities. 
Some people experience severe trauma that necessitates chiropractic care. Many we work with have been improperly using their body for years and need retraining. Whether something happened all at once or you've steadily noticed an increase in discomfort over a period of time, we can help. 
Listening to your body is a vital step in its swift recovery process. When we don't listen to it, the pain will spread to other areas, as muscles and joints need to work harder or overcompensate for those that are injured. Something that started as a loss of mobility can turn into debilitating pain. 
OMNE Chiropractic will learn all it can about your symptoms so we can find your correct health plan and get your body up and functioning as it was meant to. Our care will give you a smart, safe solution, so you feel confident in your body's abilities. 
Chiropractic Manipulation
Manual adjusting techniques restore joint motion and decrease pain. Adjusting targeted areas that need it most helps relieve discomfort and get you moving again. Manipulative techniques are low-force and utilize a shallow thrust to restore motion in restricted joints. An adjustment is often accompanied by a "pop" sound, which is air being released from the joint.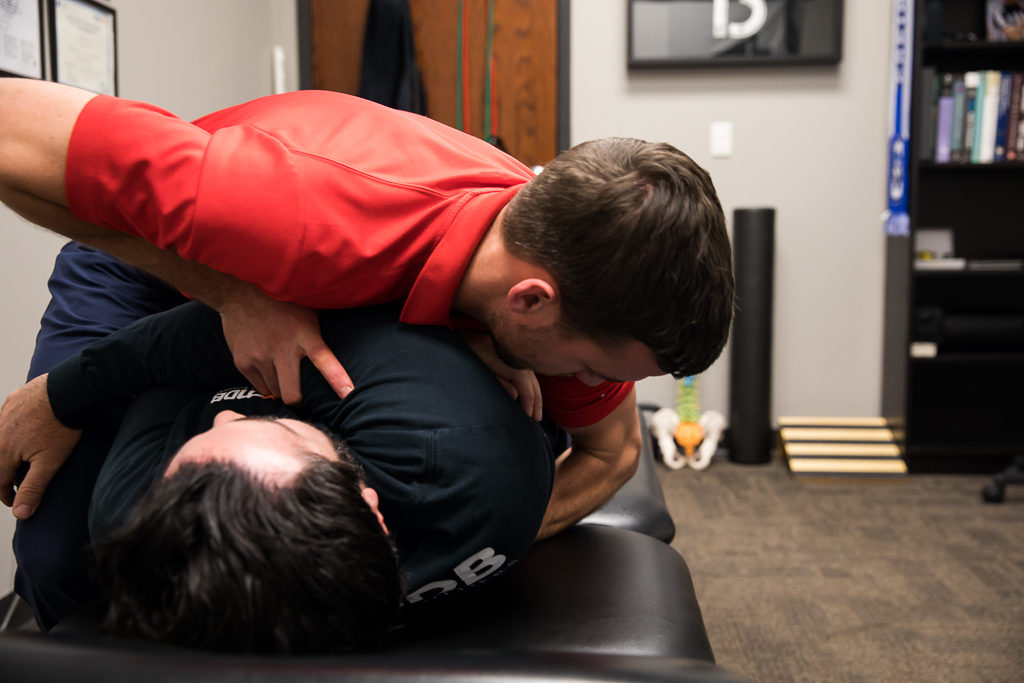 Dry Needling
Dry needling is a soft tissue technique that involves applying a solid filament needle in areas of muscle dysfunction to improve tissue quality and pain. In addition, intramuscular stimulation utilizes a low-level electrical current that helps relieve muscle tension and helps ease post needling soreness.
Myofascial Release
Myofascial release involves the mobilization of soft tissues both manually and with the use of instruments to improve the resiliency of muscles while decreasing muscle tension. Hands-on and instrument-assisted soft tissue mobilization is a form of sports massage that helps aching and injured muscles recover.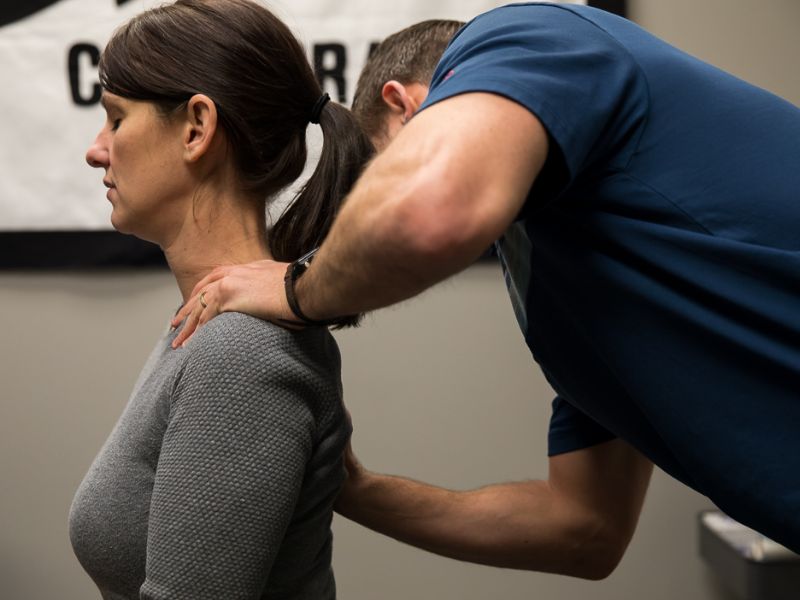 Mechanical Diagnosis & Therapy (MDT)
MDT is an evidence-based mechanical evaluation and treatment system that utilizes various dynamic movements to put patients in control of their pain and improve their joint health. The assessment will precisely determine the reason for your pain and help guide you on the next steps to its removal.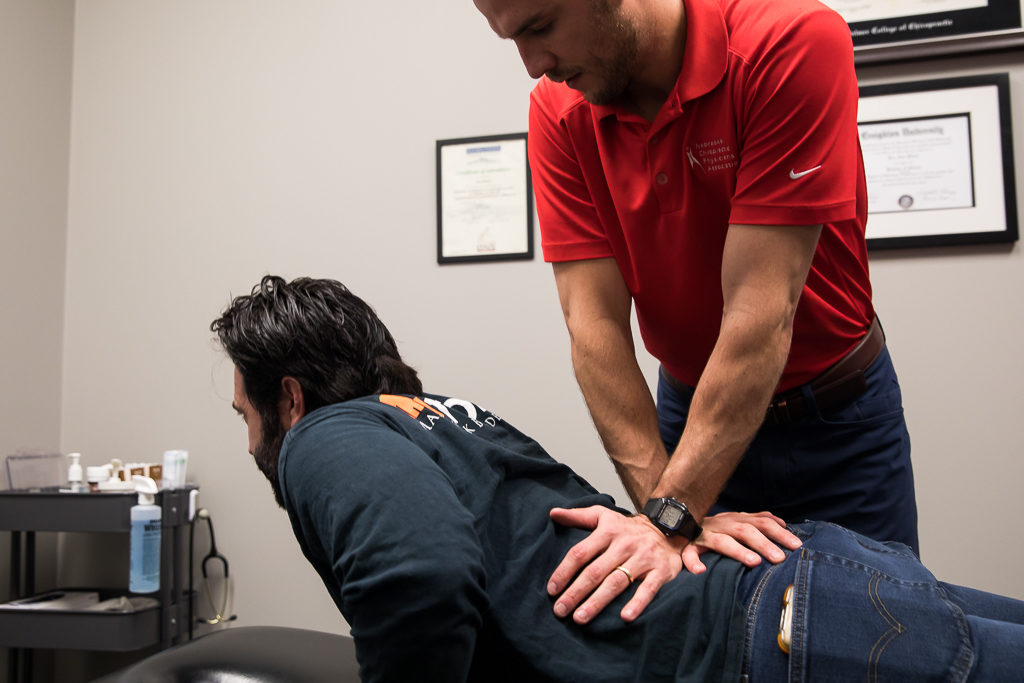 Dynamic Neuromuscular Stabilization (DNS)
A rehabilitation technique based on developmental kinesiology, designed to stabilize the joints and muscles of the body. This technique helps Dr. Peters evaluate and guide movement, serving as a foundation for exercise prescription and rehabilitation techniques.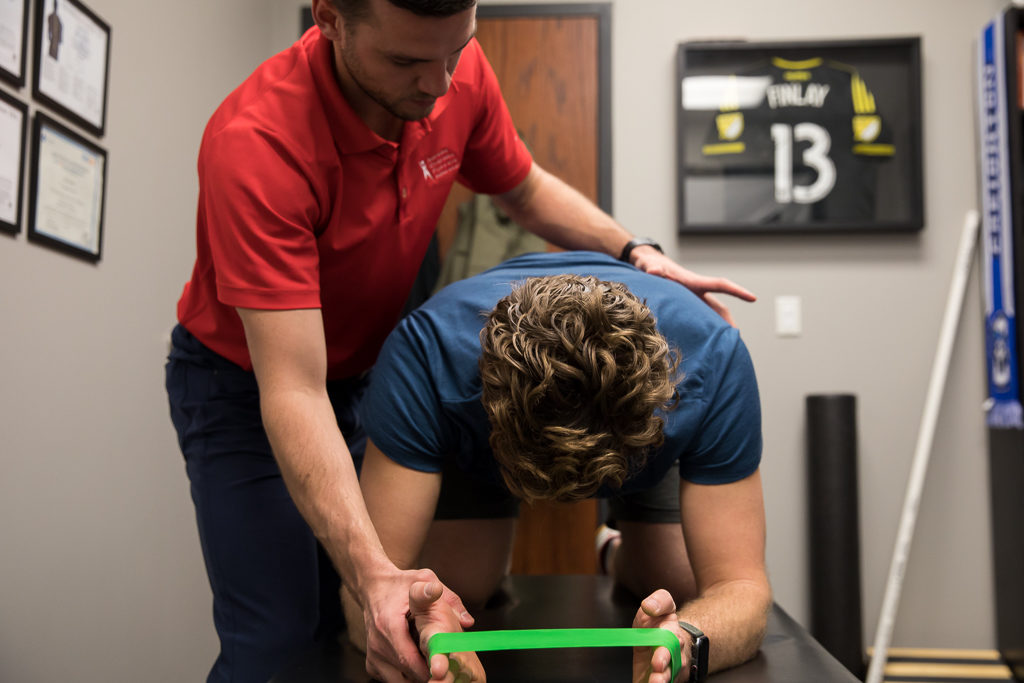 Graston Technique
Using chiropractic instruments made of surgical-grade stainless steel, this treatment targets scar tissue and other unhealthy tissue to increase blood flow, improve tissue health, and aid in recovery. This technique provides intentional and quick assistance to areas in need, often giving immediate relief from discomfort and restoring function.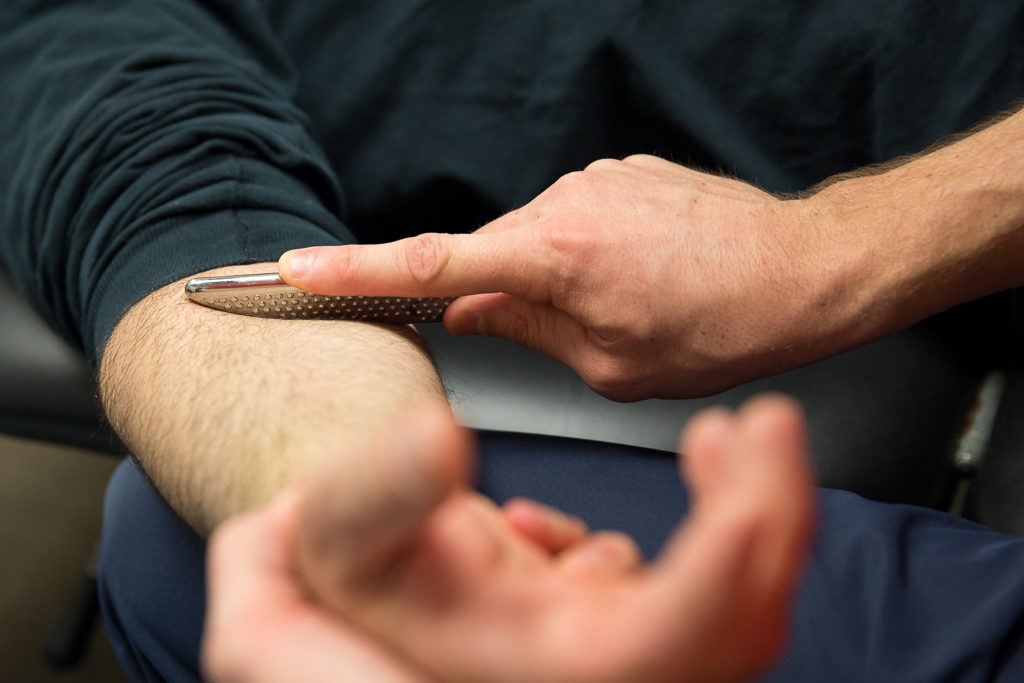 McKenzie Method
Utilizing the patient's independence, this treatment plan uses chiropractic care and exercises to minimize pain through self-healing. It benefits acute and chronic conditions of the spine and the extremities (ankles, feet, hands, etc.). Exercises can be completed at home and at the office to help decrease pain, improve function, and prevent a recurrence.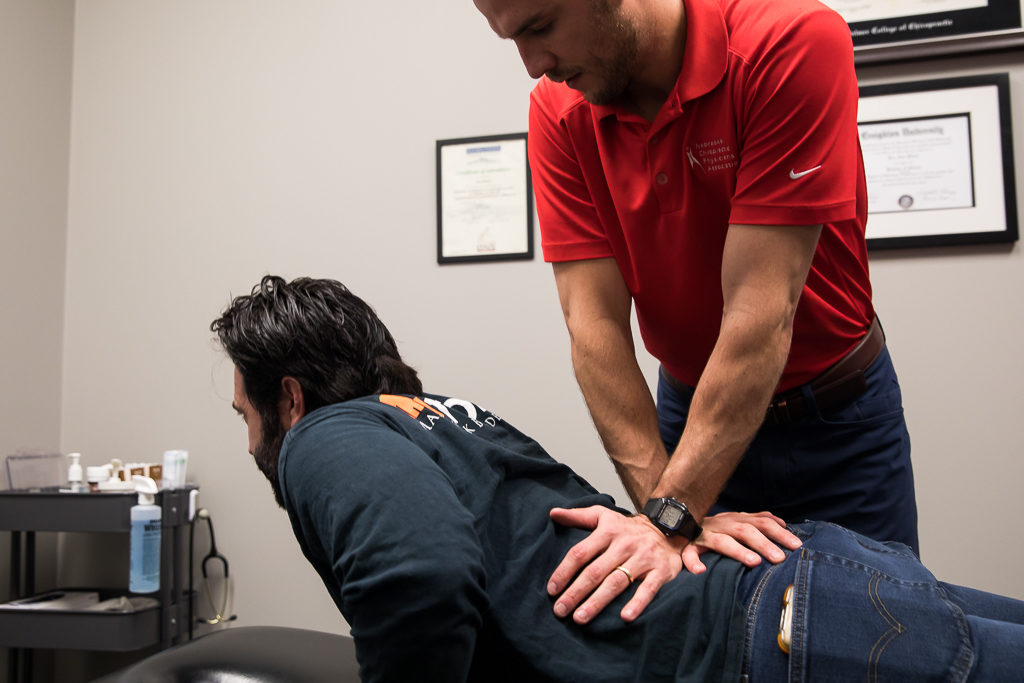 Functional Rehabilitation and Therapeutic Exercise
In-office and at-home injury and sports rehab exercises help our patients recover quicker. 
Patients are empowered with exercises for self-treatment, achieving faster results and staying on top of their condition. It means less time spent in the office and more time doing what they love.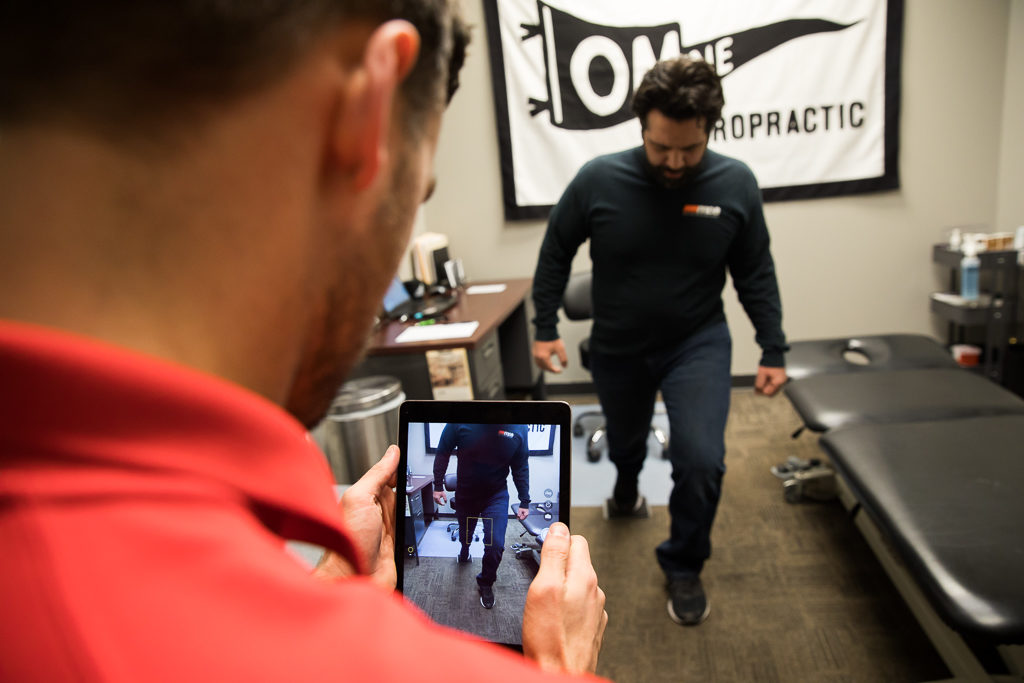 Kinesio Tape
Generally used on our athletic patients, this tape is applied to the skin over an affected area of the body. It serves to alleviate pain and remove swelling as it supports muscles and joints. It is also a useful proprioceptive tool, providing the patient with improved sensory feedback for better movement and control.
Other Beneficial Chiropractic Services
While our in-office solutions offer significant benefits to our patients, there are various other useful take-home body-centric reasons to visit Dr. Peters. 
Learn exercise modifications to support your body's physical ability

Learn correct sleeping positions that unload painful areas of the body

Learn stretches that support oxygen and blood flow throughout the body and build strength

Learn spine sparing movement strategies for dealing with acute pain

Learn movement strategies for proper lifting to improve performance and decrease injury

Learn mobility and flexibility exercises that enhance movement and comfort 

Learn postural exercises for a healthy neck and back

Learn desk and driving ergonomics that support spinal health and movement safety 
Your Omaha Sports Chiropractor:
Solutions to pain and performance
We understand what it takes to play at a high level. We understand the cost of losing time due to pain and injuries.
Dr. Peters draws on an athletic background and a passion for helping active people. This drives him to find solutions to pain and performance so his patients can continue doing what they love.
His sports chiropractic approach is a culmination of knowledge from many disciplines into an evaluation and treatment toolbox that patients will appreciate.
There are only so many weeks in a season. Don't waste yours due to pain and injury. 
When all you have is a hammer, everything looks like a nail.
Certifications
Dr. Peters is certified in:
Graston Technique 

Dry needling

Myofascial Release Techniques

Dynamic Neuromuscular Stabilization 

Mechanical Diagnosis and Therapy

Motion Palpation Institute 

Palmer Package Adjusting Techniques
We provide essential rehabilitation for those involved in sports-related accidents due to hits, falls, over-training, under-training, and everything in between. Many of our patients suffer due to sports injuries, and because we're sports people ourselves, we know the personal cost to you when this happens. 
We'll put together a plan to get you back in action. Using our advanced training in chiropractic,  dry needling, myofascial release, functional movement, and hands-on treatment techniques, you have a variety of options to choose from. 
Whatever your exercise routine looks like, go for it, work hard, and keep it up! But, don't forget that you need to support your body throughout the rigors of the event. That means before it, during it, and after it. 
Chiropractic care can help you achieve your physical goals, whether you're striving to get to the next level, trying to maintain your latest speed, or just beginning your quest for the gold. Being proactive about your muscle, joint, and tissue health will help in your athletic progression. We tell our athletes all the time that chiropractic enables you to meet the demand and stay on top of your game. 
Our sports chiropractic approach recognizes the complexity of your condition. We tailor our treatments to best suit your needs with a focus on getting results. This approach is for everyone.
We deliver the same high-quality chiropractic care to every patient that walks through our door because you deserve it. 
Top-level treatment for athletes and families
Chiropractic is safe and effective for a variety of musculoskeletal conditions.
Fewer Drugs and Surgeries 
Research demonstrates chiropractic patients had 64% fewer odds of receiving an opioid prescription. 
High Patient Satisfaction 
Chiropractic patients were more satisfied with their back care providers after four weeks of treatment than were medical patients.
Cost-Effective
Low back pain episodes initiated with a chiropractor save 20-40 percent compared to care initiated through a medical doctor.
The Smart Approach to Meeting Your Health Goals
Pain is a destructive thing; it will wreak havoc on every part of your life if you let it. Let's put an end to it. Our approach to your recovery ensures your body's safety and allows for natural, empowered healing. 
No matter your level of athleticism, we're here to support you. Whether you kick a ball around with your kids, take the stairs instead of the escalator, sit at your desk for eight hours a day, compete in triathlons, or hit the gym twice a week, we have you covered. You should be enjoying your life; let's get it back. Call us today. 
It's important to us that you get the quality of care you're searching for; with our array of chiropractic solutions and Dr. Peters' experience, expect us to surpass your expectations. 
Our patients are top-notch, and they've told us some great things about their time with us; we'd like you to hear about it, too.