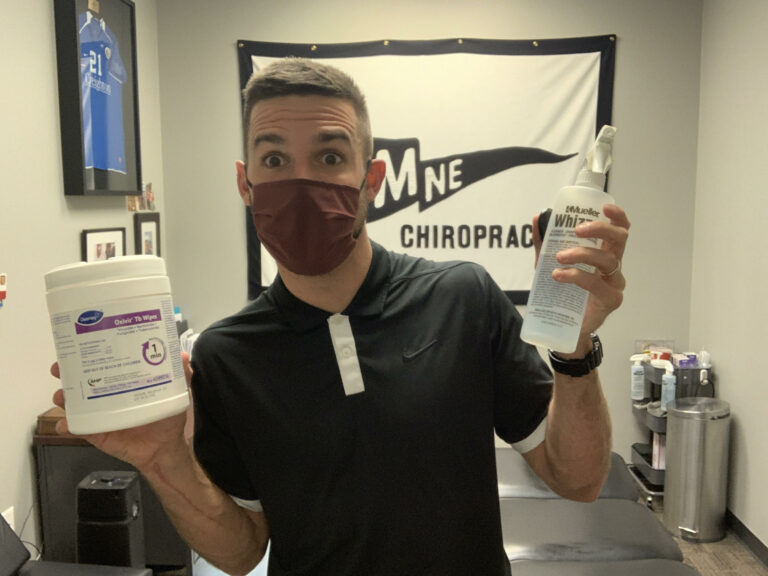 UPDATE 11/12/2020
To current and prospective patients, 
I wanted to take a moment and update everyone on our current office policies and procedures. The fact is that COVID-19 is really spreading in Omaha and surrounding areas right now.  However, we continue to stay open and deliver COVID-conscious chiropractic care.  You may have heard about other chiropractors refusing to wear masks and I want to emphasize that is not the case at our office. In fact, we have had numerous patients transfer their care to our office and been very pleased. 
We have been diligent about appropriate hand  washing, cleaning of high touch surfaces, and mask wearing in our office to avoid the spread of coronavirus. We have a small office with limited staff and because we are by appointment only there shouldn't ever be a crowded waiting room.  If you feel uncomfortable, you are welcome to  wait in your car until your appointment time. 
Patient expectations: 
Wear a Mask: Our form of treatment does not allow for social distancing. Please keep yourself and our staff safe by wearing a mask at all times while in our office.  
 Hand Sanitizer: Please use hand sanitizer upon entering and exiting our building. 
No Guests if Possible: the fewer people in the office the less exposure and chance we have of passing COVID. Please come to your appointments alone if possible. We understand this is not always possible with kids and will be happy to make accommodations. 
If you have had an exposure or feeling any sort of illness please out of respect to our office staff and other patients, reschedule your appointment. This can be done easily by calling 402-933-4447.
UPDATE 6/22/2020
Expanded hours  once again. This is likely the last major change of the summer. We will re-evaluate our schedule and hours in the fall.
Office hours will be expanded as we transition into summer. Updates will be posted on the website and all social media accounts.

Dr. Peters will be wearing a mask to protect himself and you!
Scheduling time between patients for sanitizing of high touch surfaces and hand washing.
Patients are strongly encouraged to wear a mask and wash their hands prior to entering the office consistent with the CDC recommendations for going out into public. We will have limited masks for patients to wear.
Please stay home if you are feeling ill. Coronavirus has a wide range of symptoms including:
People with these symptoms or combinations of symptoms may have COVID-19:
Cough
Difficulty breathing or shortness of breath
Or at least two of these symptoms:
Fever
Chills
Repeated shaking with chills
Muscle pain
Headache
Sore throat
New loss of taste or smell