In this edition of Healthy Omaha, we highlight Root to Branch Acupuncture and Sara Kowalik. She practices acupuncture and Traditional Chinese Medicine.
I was very excited to highlight Sara because I have had the pleasure to get to know her as she practiced within the clinic prior to moving to her new location. Sara is the only acupuncturist that I know and it has always been interesting to see her perspective on healing. Her perspective is founded in Traditional Chinese Medicine, which is quite a bit different than my own. 
Tell Us About Your Acupuncture Business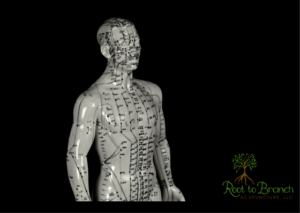 Root to Branch Acupuncture was established in October of 2013. My first introduction to acupuncture was in 2009, when my dad declined a Group On for his migraines. Instead, I ended up using it and it was amazing! I found that acupuncture was very helpful for stress management and the issues associated with stress. Coincidently,  I was in the market for a new career path. Acupuncture lit me up in a good way and seemed like something that I would like to do. Not long after, I moved to Austin, Texas to attend the Texas Health and Sciences University.  Later on,  I graduated with a Masters of Science in Acupuncture and Oriental Medicine. I became a board certified Diplomate in Oriental Medicine by the National Certification Commission for Acupuncture and Oriental Medicine and came back to Omaha to open my practice.
How has it evolved since you started?
Hmm, good question. I don't feel like my business has changed much but I guess as the business owner maybe I don't notice how things have changed or make note of what others might think are significant changes or accomplishments…
I have moved locations 3 times over the course of 5 years which has proved to be challenging each time. I have gone from renting space from inside another business to having a whole office suite for my business!  This was a huge step and I have had the pleasure of decorating the space and making it my own which has been fun.
The thing that changes the most is that I am constantly learning new things and techniques to enhance my practice and improve the outcome of my treatments which is interesting and exciting.    
I want people to understand that there is hope to change their story.  There is absolutely no reason they need to live with whatever pain or condition they are facing.
I want to hear each individual's story to find out what is keeping them from flourishing.
 I can help with making lifestyle suggestions and utilize a number of different techniques to help unblock their roadblocks to health and well-being. Acupuncture can maximize a person's healing potential to reduce their pain and stress, giving them back the quality of life they deserve.
What are some common conditions you treat with acupuncture?
Of course most people know that acupuncture is used to treat pain. I treat a lot of back and neck pain, shoulder, knee and hip pain.
Other common conditions that acupuncture can treat include stress, anxiety, headaches, digestive issues, sleep issues, infertility and sinus congestion just to name a few.  More uncommon conditions include shingles and Bell's Palsy.
What gets you up in the morning?
I love the morning itself, although I would not categorize myself as a morning person. I think it helps that most mornings I can allow myself to naturally wake, without the use of an alarm clock and my schedule is such that I don't have to rush out of the house. It's harder in the winter because what I enjoy the most is having a hot cup of tea and my breakfast sitting outside just enjoying the fresh air and the little bit of nature that is the back yard. 
What do you love about the Omaha community?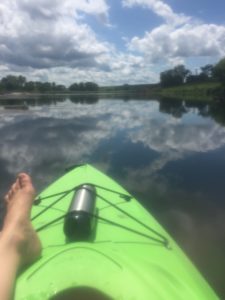 I was born and raised here in Omaha and although I have lived in a couple other places Omaha always seems to pull me back.  I like that it is not too big and despite what some people think there is plenty to do! I love kayaking and hiking and there are plenty of great spots to do both activities inside the city as well as nearby.
I am currently finishing up a training course that will help me better serve those with autoimmune diseases.  
Autoimmune disease is becoming quite an epidemic and if you have been diagnosed with any of the 100+ diseases in this category you should know that there is hope for real healing.  
My motivation for this training stems from my own battle with an autoimmune issue and what I have learned has not only helped me manage my condition better but will enable me to assist others through a process that I have experienced personally to be beneficial.  
One thing you wish more people knew about your business
Acupuncture works and should not be a last resort!  
There is a lot of research behind its benefits and the World Health Organization recognizes acupuncture as a way to successfully treat a wide variety of conditions.
Where can people find you?